SHORT FIGMENTS
film
· hollywood fringe festival [film] · 49 mins ·
DESCRIPTION
▪ BUGBABY – 15:46
Little Sammy Gregory is a "special needs" infant – special in that he resembles a giant insect and needs a constant supply of raw meat. Mink Stole appears as a social worker in this silly take on modern parenting.
▪ SHOW ME – 12:50
A married Vaudevillian couple examine their parenting options once the circuit begins to crumble.
▪ BLOOD ROULETTE – 12:45
• You never know exactly what your boyfriend is up to when he stays at home all day while you're at work.
▪ ANNA SEES GHOSTS – 7:30
A gentle walk through the veil guided by the beautifully evocative musical strains of Windows To Sky.
Thursday, June 14th @ 10p
Friday, June 15th @ 1245p
Saturday, June 16th @ 245p
Friday, June 22nd @ 1230p
Saturday, June 23rd @ 1015p
INCLUDING SHOWS FROM
todd a. sharp & michelle gardner, produce...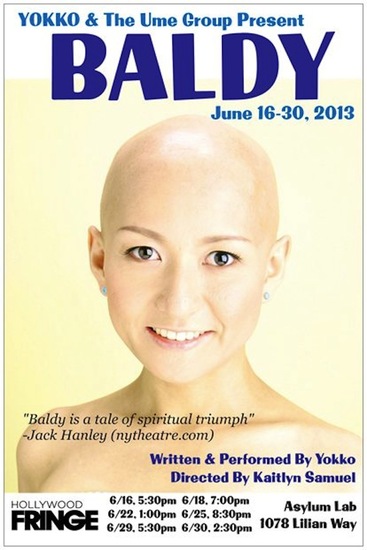 A young Japanese woman discovers her father's love for her only after she loses her hair and skin. Nearly a dozen characters are brought to life in this revealing, fearless and funny journey of survival and the power of dream.