REVIEW BY ROB STEVENS
Jump to haineshisway.com or read the review below!
June 08, 2014
Having recently moved back to Los Angeles after ten years, I am currently having my first encounter with the Hollywood Fringe Festival. Talking with others before the show I was told that Fringe shows were mostly vanity productions (cheap to mount and giving just a few performances during the month of June) and the audience was usually made up of friends and relations. In other words—viewer beware. Well I feel like I really lucked out with my first show, Queer Classics' version of The Importance of Being Earnest.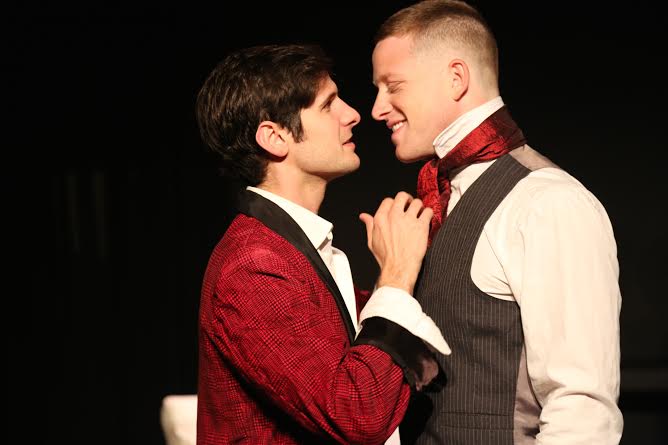 Philip Orazio and Boone Platt
Oscar Wilde's classic comedy is undoubtedly the non-musical theatre piece I have seen more than any other, easily as many as fifteen different productions over the past 40 years. I remember my first—at the Mark Taper Forum with the late great Corale Browne as a most formidable Lady Bracknell and the late great David Dukes as Algernon. After Quentin Crisp made it fashionable for men to portray Bracknell, there were several productions in Los Angeles. The best featured BJ Turner sporting hats that would have made the designers of Beach Blanket Babylon jealous. I've seen at least two different musical versions of the play, the best being an original at the Megaw Theatre in 1983 featuring the lovely and talented KT Sullivan as Cecily. I've even seen a gay version in Orange County many years ago. The creators had a good idea but didn't know how to execute it and the show fell flat.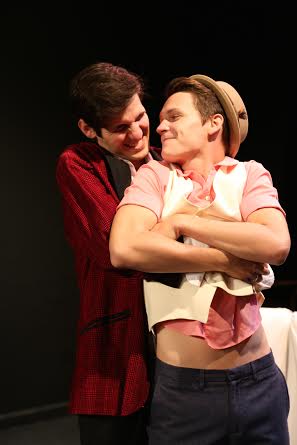 Philip Orazio and Grant Jordan
That's not the case with Queer Classics and director Casey Kringlen and his cast. They simply changed the gender of Gwendolen and Cecily to young feminine men and it worked wonders for the show. They have also trimmed the book and presented the Evelyn Wood Speed Reading version—they've condensed a three-act play with a running time of about two and a half hours to a fast-paced ninety minute one act. The result is delirious fun and the leading foursome do their roles proud.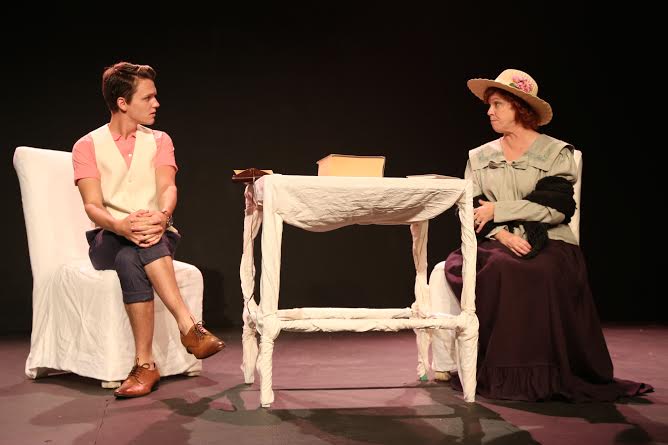 Grant Jordan and Megan Soule
Philip Orazio has lots of fun as the witty Bunburist, Algernon. Besides his great comic timing, he displays the talent of eating fast and still delivering his lines clearly with a mouth overflowing with cucumber sandwiches and buttered muffins. Boone Platt is stalwart and steady as the more earnest Jack and the two play off each other very well. As Cecily, Grant Jordan makes a winsome eighteen year old country male besotted with the thought of reforming a wicked man. Mason McCulley is prissy and uppity as Gwendolen and these two have a wonderfully delicious and dishy tea party.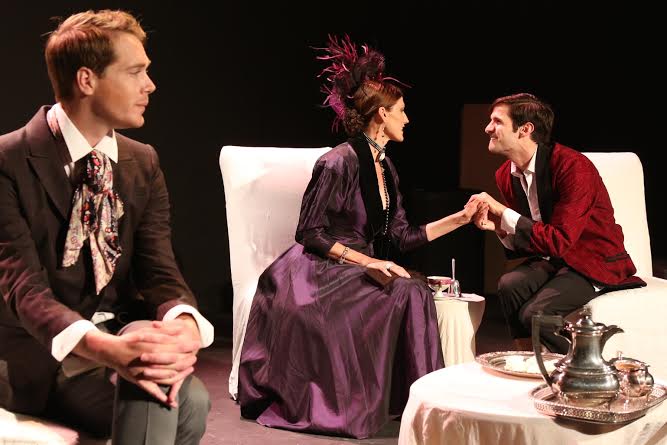 Mason McCulley, Nancy La Scala and Philip Orazio
all photos by Teena Pugliese
Eric Deloretta gives strong support as the two in-the-know manservants, Lane and Merriman. Megan Soule makes a perfectly ditzy Ms. Prism. Nancy La Scala as Bracknell had trouble remembering her lines on press night and her line delivery was off also. As a result she lost many of her laughs. Jeff Elam as Dr. Chasuble appeared very amateurish on a stage filled with scene stealers.
Queer Classics at Actors Company, 916 N. Formosa Ave. in Hollywood. Ends June 22. 323-455-4585 or www.hff14.org/projects/1829