Tweet
http://hff18.org/5205
(hit ctrl+c to copy)
LAST CHRISTMAS
solo performance
· fringe management and combined artform · Ages 14+ · one person show · 1hr · United Kingdom
Buy Tickets
Add to Favorites
WENDY WANDERMAN
certified reviewer
· June 02, 2018
I thought it was really good. An extremely well-done one-man show. It was thought provoking and Evan McNamara did an excellent job portraying a variety of events and characters - some very funny - that affected his bereavement caused by the death of his father....
full review
MICHAEL LAMB
certified reviewer
· June 05, 2018
Evan was really on his game in this wonderful one-man show. His great talent let's him sift through each character like a seasoned professional. The directing by John Coppola was also fantastic to watch as with most great directors, you barely notice the directing....
full review
ANONYMOUS
certified reviewer
· June 14, 2018
Evan McNamara did a marvelous job of creating characters and spaces and time travel. His range of emotion and ability to keep the audience was impressive. ...
full review
ANONYMOUS
certified reviewer
· June 17, 2018
An amazing show about navigating the treacherous waters of grief. ...
full review
STACY DYMALSKI
certified reviewer
· June 15, 2018
I loved this play. It's a peek into the running dialogue that we all have swirling around in our heads, but never actually say. Except here, Tom says all those things out loud which makes him very easy to relate to. It's a visual essay that expresses how coping with emotional pain is universal, and that processing that pain is the only way out. Well done to all involved in this production....
full review
DENZIL MEYERS
certified reviewer
· June 15, 2018
Super writing and excellent acting really bring this story to life. A gruff but likable regular guy struggles with his feelings about his girl, his friends, and his family. Very relatable and heartfelt. This is one of my favorite shows this Fringe....
full review
MARTIN RODRIGUEZ
certified reviewer
· June 18, 2018
I called my mom and dad after I left this show. This was such a fun and engaging story with a beautiful message that was all delivered very well. Speaking of engaging, Evan did a fantastic job creating the different characters and giving them unique voices and personalities. He really brought this story to life. This well-written script, along with its great direction and acting, gives for a very special theatrical experience. I left with a warm heart and a thankful life. Go see this show!...
full review
JOE MCNAMARA
· June 13, 2018
Fantastic performance by Evan McNamara in this fast moving one man show....
full review
ADVERTISEMENTS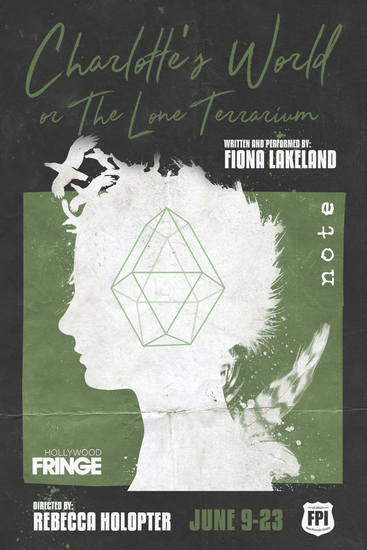 Don't miss the final performance of this Highly Recommended show that is being called "The Spirit of Fringe 2018!" Charlotte has always dreamed of being able to fly! And she's determined to do it as she finally learns what it means to be free.
Want Valley Theatregoers at your show? NoHoArtsDistrict.com (1 million visitors yearly) - #1 source for theatre in the Valley now offering exclusively to Fringe productions Review, frontpage AD and social media to 26,000 followers for $165.
SIGN UP FOR THE FRINGE NEWSLETTER
BEHIND THE SCENES
Copyright © 2018 Hollywood Fringe Festival
All Rights Reserved.