Tweet
http://hff18.org/4968
(hit ctrl+c to copy)
Villain - An American Story
ensemble theatre
· from the gut creations · Ages 13+ · flashing lights · world premiere · 90 mins · United States of America
Buy Tickets
Add to Favorites
BONNIE SLUDIKOFF
certified reviewer
· June 03, 2018
"Highly recommended" doesn't feel like a positive enough thing to say here. I look forward to seeing this show at the Geffen or the Mark Taper in a few years when someone with money gets the privilege to produce it. It's a bigger piece than this space really allows it to be, but they make it work. That said, it's a privilege to get to see these incredible actors this up-close and personal. This cast is the real deal. I can't even list the standout performers because I feel bad not acknowledging every single person- some really delicious scenes were written for every main character of this spectacular ensemble cast and every cast member lived up to the challenge. I suspect this show will become one that actors use for auditions and sc...
full review
FRANCESCA S JAMES
· June 04, 2018
I wasn't quite certain what to expect from a play which speaks on a very common topic these days. I would never have expected the level of creativity displayed in "Villain". The writing was superb. It covers thoughts and emotions from a depth of understanding usually overlooked. Bravo to the writers, director and each and every actor. The performances were stand out by each one. However, my tears began to flow the moment the mother began her performance in silence. It was riveting....
full review
ANONYMOUS
certified reviewer
· June 10, 2018
ANONYMOUS
certified reviewer
· June 11, 2018
My overall impression... An amazing message of the "boys in blue" stereotyping young black males with the assumption of ALL black men are in a gang or up to no good. In my opinion, the VILLAIN is individual ignorance in judging someone because of the color of their skin. Impressive Play......
full review
TYLER SHEPHERD
· June 04, 2018
Villain is the type of show that transcends entertainment. From the very first sounds in the play, you no longer feel like you're just watching a show but rather partaking in a real experience. Society has a tendency to sensationalize issues to the point that we become desensitized to serious and tragic epidemics. Villain successfully strips away all the distractions and truly gets to the heart of America's all too familiar problem and often forgotten sentiment; which is that human beings, not just racial statistics, are involved in these tragic police shootings. The play's courage to tackle such a polarizing issue is admirable within itself, but then to witness how thoughtfully the story is executed is even more inspiring. Going beyond ...
full review
ANONYMOUS
certified reviewer
· June 04, 2018
I bought the tickets for a friend and guest. They loved it!...
full review
ANONYMOUS
· June 16, 2018
I thought the show was absolutely incredible across the board. The execution from the cast and the set worked to show the two sides of how one incident can tear apart and change the lives of families drastically. ...
full review
EISHA MASON
certified reviewer
· June 14, 2018
Riveting from the first moment. Incredible writing, not one fluff line. Outstanding performances from every actor. Every detail in their performances, just perfection! The set is so creative (without giving anything away). It was deep, painful, BUT I was grateful to see this story told. Needs to be told. This play is going to go the distance! In another setting--a talk back every night. And opportunities for action....
full review
ANONYMOUS
certified reviewer
· June 13, 2018
Extremely tedious script. Lots of hand wringing and angst. I was unsure why we were so focused on these boring white people. It gave no new insight into the wave of police brutality, racism and shootings in America and instead came across as a pretty pedestrian recap of many incidents seen through the white gaze. The white characters were stereotypes. The black characters seemed to do little but potter around stage with about 70% less lines....
full review
ANONYMOUS
certified reviewer
· June 17, 2018
I was blown away. From the tense opening scene between characters Grace (Kailena Mai) and Evelyn Thompson (Shaw Purnell) until the last, heart wrenching monologue, I was hooked. The fresh writing, great direction and talented cast told this story in an authentic and honest voice. A very human voice, with all of the fear, potential, hope, and tragedy that that implies. ...
full review
ADVERTISEMENTS
Fifth smash year! Too many shows and not enough time? Our experienced, independent judges see tons of productions across every genre, then we choose, and present live highlights from, five of the best shows at each Pick of the Fringe performance.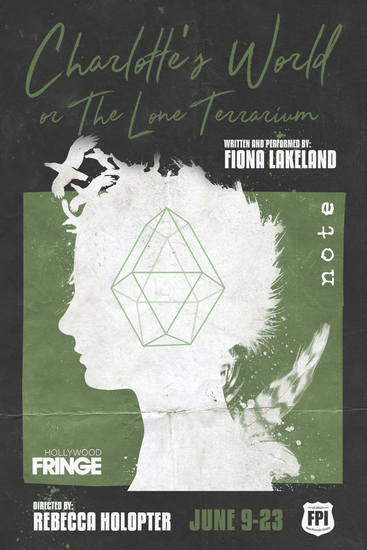 Don't miss the final performance of this Highly Recommended show that is being called "The Spirit of Fringe 2018!" Charlotte has always dreamed of being able to fly! And she's determined to do it as she finally learns what it means to be free.
SIGN UP FOR THE FRINGE NEWSLETTER
BEHIND THE SCENES
Copyright © 2018 Hollywood Fringe Festival
All Rights Reserved.