Tweet
http://hff17.com/4611
(hit ctrl+c to copy)
Mr. Marmalade
ensemble theatre
· riverton playground theatre · Ages 15+ · includes nudity · United States of America
Buy Tickets
Add to Favorites
SPENCER FRANKEBERGER
certified reviewer
· June 06, 2017
Fantastic lead performance with an engaging cast, engaging set, and quick set changes, but I'm not the biggest fan of the play itself....
full review
ANONYMOUS
certified reviewer
· June 11, 2017
This is definitely a must see at the Hollywood Fringe this year. This seasoned cast directed by Dennis Neal put on a display of comedy bliss. Melody Ricketts (Lucy) and Paul Major (Mr. Marmalade) put on a showcase that'll have you wanting more at the end. Jameson Cherilus, who plays Bradley, is absolutely phenomenal. His portrayal of Bradley is absolutely hilarious and will leave you with cramps in your stomach from laughing so hard. Go see this play! ...
full review
COLTON BRODEUR
certified reviewer
· June 20, 2017
This show manages to be cute and a little disturbing at the same time. The result is a splendid night of theatre....
full review
KEVIN ALLEN
certified reviewer
· June 23, 2017
A brave, dark but funny piece, one that reflects what the Fringe is all about. Theatre at its best because it engages on all levels. This piece entertains, but also makes you think and reflect. Not to be missed....
full review
PAUL PLUNKETT
certified reviewer
· June 23, 2017
Delightful fun! Strong performances, unique script/story and sharp, specific direction, everything I like to see in a Fringe show! ...
full review
LAUREN SANATRA
certified reviewer
· June 25, 2017
Such an amazing show! Now when I first saw that " Mr. Marmalade" would be included in this year's fringe, I knew I had to see it! It is my favorite play and very near and dear to me because years ago, it was my first full length play I had ever directed! I was excited to come in and see it in a different interpretation and vision, it was different from the way I did it but that's what I LOVED! It was like seeing the play for the first time and I loved every moment of this sick and twisted dark comedy! The performers were phenomenal and so in tuned with the characters. An adult actor playing a child, playing a grown up is no easy thing, but they did it so perfectly! Great direction and staging, simple and effective. The connection between...
full review
TIM POWELL
· June 25, 2017
A Brilliantly performed, engaging and subtle production of Noah Haidle's now-classic acclaimed black comedy, interpreted by the hands of Master Craftsman, Dennis Neal of Riverton Playground Theatre - Lead Actor Melody Ricketts' soul-touching performance owns us with a haunting, gentle, and pleasantly disturbing style that delights, captivates, pleases, belies her youth, and reveals her old soul, predicting a wonderful career to come. Paul Major's titular role rocks with brilliant comic timing, detailed nuance, and consummate skill - while Jameson Cherilus' gentle and detailed interpretation of a conflicted personal assistant is sweet, loving, and long-suffering; layered with constituent choices: a perfect counter point to Melody and Paul's ...
full review
ADVERTISEMENTS
Enjoy this "Highly Recommended" show you should "add to your Must-See list"! Plus you can get $5 Happy Hour Drinks throughout the show delivered to your seat!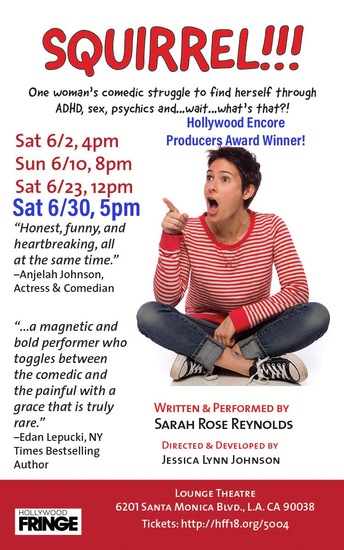 WINNER of the Hollywood Encore Producers Award! Only performing 1 encore show! Get your tickets now for the 6/30, 5pm show at the Lounge Theatre! hff18.org/5004
SIGN UP FOR THE FRINGE NEWSLETTER
BEHIND THE SCENES
Copyright © 2018 Hollywood Fringe Festival
All Rights Reserved.