MAD😜LIB! The Musical
Buy Tickets
Add to Favorites
Send Message
BENJAMIN SCHWARTZ
· June 12, 2016
Mad Libs is a fun show that keeps it fresh every night with guest stars and showtune standards. Throw in great singers and a give the show a musical improv twist, well you got a great show. If you like musical theatre, are on a budget (the show is free, FREE, how can you go complain?) and want a solid hour of pure fun go see this show. You're gonna have a good time....
full review
BRICE WILLIAMS
· June 12, 2016
I came in not knowing what to expect from this show. To say my expectations were exceeded would be a gross understatement. Every aspect of the show delivers. The cast are all unbelievable singers, every single song tonight blew me away. The improv was clever and specific and so well executed for having so little prep. It was exactly what I wanted in an evening of theatre; alcohol, improv, and amazing singing. Go see this show, you will not regret it!...
full review
MATT HILL
certified reviewer
· June 13, 2016
If you enjoy a variety of musical theatre fare as well as improv comedy, this show is for you. All performances are going to be their own brand of unique, so the show affords itself great reason to see it again and again. Fun production!...
full review
SPENCER FRANKEBERGER
certified reviewer
· June 12, 2016
There was a lot of hype surrounding this show from a lot of people I talked to who highly recommended it, and while I enjoyed it, it didn't quite meet my expectations. Is it worth checking out at least once? Yes, it's free and if you can stay up late after Fringe-ing all day. If it's on your list, check it out. The guest stars blew me away as did Mitchell in the main cast, and I thought the rest of the main cast was good, too, but the standouts for me were the guest stars and Mitchell....
full review
ERIK BLAIR
certified reviewer
· June 15, 2016
It's late on a Fringe Friday/Saturday and you've seen show after show. How would you like to relax? Why not head over to Three Clubs and see a free, completely improvised musical to round out your evening? That's the premise behind the very fun, very free and ALWAYS entertaining MadLib the Musical. I first ran across this show during their previews before Fringe began and I tried them out once just to see if there was anything here. And to my surprise, I found the premise behind their show really fun. A completely new musical prompted by a list on songs and a title--nothing more. That's all the get and five minutes later, boom--off to the races we go. And like any improv, some of what you get after that is fantastic and some is a little ...
full review
ANONYMOUS
· June 24, 2016
Fun time! Great show! Improv is hard--and improved MUSICAL--I imagine is harder and they are fantastic!!...
full review
ADVERTISEMENTS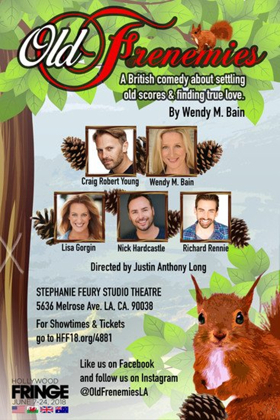 A modern British comedy play, with a British plus one Aussie cast.
Murray Meyer's - one man show. A single father, a mob boss and a pot selling nun. Hudson Guild 6539 Santa Monica Bl June 15, 16, 17, 22, 24 http://hff18.org/5157
SIGN UP FOR THE FRINGE NEWSLETTER
BEHIND THE SCENES
Copyright © 2018 Hollywood Fringe Festival
All Rights Reserved.