Night Witches
ensemble theatre
· the thrillpeddlers · Ages 16+ · flashing lights · world premiere · United States of America
Buy Tickets
Add to Favorites
MARY SIDELL
certified reviewer
· June 06, 2016
A poignant history lesson for all of us, so beautifully retold by an excellent cast....
full review
PETER MCARTHUR
· June 14, 2016
Go see this show, better than your average fringe piece. Well written and performed, this is a big piece that will hopefully go on to great things!...
full review
SHAWN MACAULAY
certified reviewer
· June 06, 2016
This isn't a Fringe show based on a gimmick, a dick joke, or innuendo. This is a show with a good story and an impressively-skilled cast. And the "ingenue" kills Nazis. How can you go wrong? ...
full review
DI KOOB
certified reviewer
· June 06, 2016
I was entertained and moved, and we kept talking about it for the rest of the evening. The quick pacing really served the story and kept us in the audience engaged. It's an epic in a tiny theater and well worth seeing....
full review
STEVE MORRIS
· June 08, 2016
This is a story that deserves to be retold to all through a filmed version with special effects and tension not available on a small stage - Great job give the existing setting though....
full review
ANONYMOUS
certified reviewer
· July 19, 2016
This play was an amazing period piece overflowing with every emotion! Will really knocked it out of the park with his fantastic writing & the actors were spot on. I would highly recommend seeing this beautiful piece if you ever get the chance to again. The two awards & one encore performance were very much deserved!...
full review

SCOTT GOLDEN
· June 06, 2016
One of better shows at the fringe so far! Some terrific performances by some really fierce ladies!...
full review
ADVERTISEMENTS
Are you a survivor? So am I. Are you a bystander? Do you want to understand more? An incredibly powerful show taking you on a whirlwind of emotions through one woman's worst nightmare. "Incredibly socially relevant, a must see."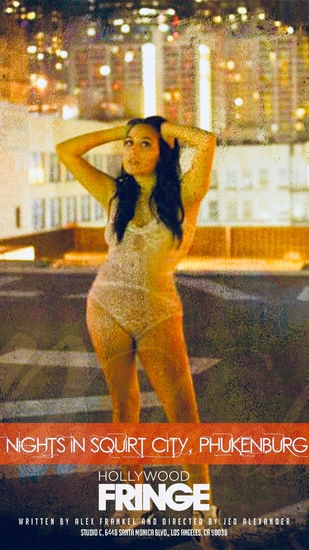 A Russian beauty. A chat room packed with horny males. A moderator yelling for tips. Just another night in Chat Heaven. Until tragedy strikes. At the Fringe June 4-9-13-18-22.
SIGN UP FOR THE FRINGE NEWSLETTER
BEHIND THE SCENES
Copyright © 2018 Hollywood Fringe Festival
All Rights Reserved.