UTERINE AFFAIRS
lady barbe-bleue · Ages 18+ · world premiere · France
Buy Tickets
Add to Favorites
BRIAN KNUDSON
certified reviewer
· June 06, 2016
Well-acted and presented. I laughed enough that I think I added a few hours to my life....
full review
CLAIRE LAKE
certified reviewer
· June 05, 2016
Impressed at the comedy found in a supremely frustrating world-wide condition! Great use of absurdism to help even those without a uterus scoff at the angst! ...
full review
GABRIELA ORTEGA
· June 12, 2016
In a world where all questions seem completely absurd, a woman dares to find answers!...
full review
ELISA NOEMí
certified reviewer
· June 13, 2016
With a critical feminist lens, UTERINE AFFAIRS intelligently poses important questions for our absurd times - the right to choose, the right for women to make choices about our own bodies, the assumptions of our heteronormative society...Worth seeing for the conversations to be had in the lobby....
full review
ANESYS VALENZUELA
· June 14, 2016
I had a flashback moment of Les Miserables, but a revolution for woman rights to choose with their own body's in suppress times. - Can't wait to see it again....
full review
ANDI NUNEZ
certified reviewer
· June 17, 2016
Overall I was super impressed with the story and acting! I've seen the show 2 times now and it gets better and better! Really funny and interesting. ...
full review
LISA CORDILEONE
certified reviewer
· June 19, 2016
Beautifully written Absurdist Theatre piece. The actors were on point and the wordplay and themes were so well intertwined that the audience couldn't help but empathize with the characters and enjoy!!...
full review
ANONYMOUS
certified reviewer
· June 20, 2016
A very particular brand of humor that was pretty well done....
full review
DEANA BARONE
certified reviewer
· June 20, 2016
An excellent absurdist piece, well written, directed and hilariously acted. What the Fringe should be about!...
full review
ADVERTISEMENTS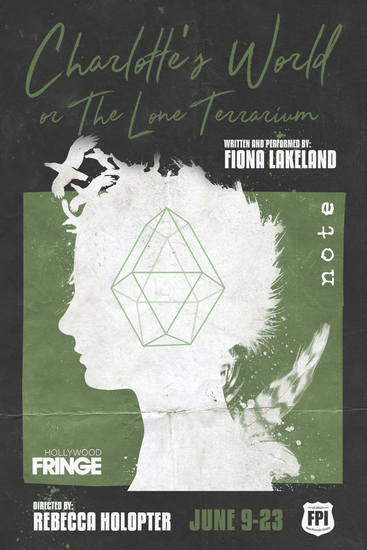 Haven't you ever dreamed of being able to fly? Charlotte has. In fact, flying is the only thing Charlotte has ever wanted to do. And she's determined to find a way to do it as she works towards understanding what it means to be free.
Murray Meyer's - one man show. A single father, a mob boss and a pot selling nun. Hudson Guild 6539 Santa Monica Bl June 15, 16, 17, 22, 24 http://hff18.org/5157
SIGN UP FOR THE FRINGE NEWSLETTER
BEHIND THE SCENES
Copyright © 2018 Hollywood Fringe Festival
All Rights Reserved.