Tweet
http://www.hollywoodfringe.org/3451
(hit ctrl+c to copy)
Las Garcia - BEYOND ENCORE
solo performance
· ortegart/lok's angeles productions · Ages 16+ · world premiere · one person show · United States of America
Buy Tickets
Add to Favorites
MORNA MURPHY MARTELL
· June 09, 2016
History is brought to life as the beautiful Gabriela portrays members of her family who fought against tyranny....
full review
ESTHER MIRA
certified reviewer
· June 16, 2016
This show is phenomenal and Gabriela Ortega is a powerhouse of talent. I truly felt that I was watching multiple characters on stage even though it's a one woman show. Gabriela embodies each character with her entire being and it is incredible to see how the story unfolds. The writing, directing, staging, lighting, sound and of course acting are top notch! This is definitely a highlight at Fringe this year, and a must-see! ...
full review
TALLULAH WINSTON
certified reviewer
· June 07, 2016
I left Las Garcia feeling good. I left feeling inspired. I left longing to know who my own grandmother was, who had passed before I even got to meet her. I wondered how she was and what she went through and what choices she had to make. I wondered what she fought for. Las Garcia has inspired me to fight for what I want in life and fight for things that are important. It inspired me to take pride in who I am, where I come from, and those who came before me. Las Garcia is heartwarming and beautiful. It's a wonderful feeling when you watch a production and it makes you feel so strongly in a positive way. Take note. This show is a gem and Gabriela Ortega is a star in the making. I am so honored to have had the chance to witness her talent and he...
full review
CARLA VALENTINE
certified reviewer
· June 10, 2016
Well written, well directed and performed well. Gabriela is enchanting....
full review
ELISA NOEMí
certified reviewer
· June 12, 2016
Gabriela Ortega has IT: that unique quality that sends chills down your arms and across your body. In her one-woman-show, LAS GARCIA, Gabriela commands the stage and fills it up with her charisma, her sensuality, her songs, her voices, her intelligence, her poetry, and her contagious passion for storytelling. ...
full review
ADVERTISEMENTS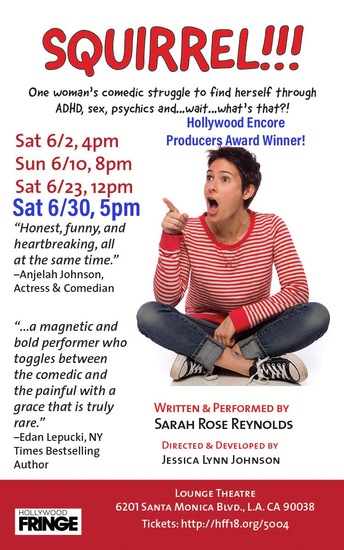 WINNER of the Hollywood Encore Producers Award! Only performing 1 encore show! Get your tickets now for the 6/30, 5pm show at the Lounge Theatre! hff18.org/5004
Written by the award winner of 2014 hit Angels and Whiskey and directed by Best Comedy for the DC Fringe winner Branda Lock, we finally answer the question: what happens to gods who have no believers left? Let There Be Thistles: An Ungodly Comedy.
SIGN UP FOR THE FRINGE NEWSLETTER
BEHIND THE SCENES
Copyright © 2018 Hollywood Fringe Festival
All Rights Reserved.