Tweet
http://hff15.org/2292
(hit ctrl+c to copy)
Cookie & The Monster
the magnum players · Ages 18+ · world premiere · United States of America
Buy Tickets
Add to Favorites
JACKSON TRUAX
certified reviewer
· June 10, 2015
I had the great privilege of seeing the preview of "Cookie and the Monster" last night at Theater of Note as part of the Hollywood Fringe Festival. The show is a work of profoundly personal sharing and vulnerable storytelling from star and lead writer Jaime Andrews. Although a piece of this nature could easily feel like a vanity project or little else beyond a personal catharsis, Andrews' writing and performance elevate the piece to being a genuinely engrossing and captivating work of art. Although much of Andrews' recent stage work has veered more toward broad comedy, here she displays an earnest sensitivity that makes for a uniquely moving performance around which to craft her show. While I was worried from the outset as to wh...
full review
VIRGINIA MORRIS
certified reviewer
· June 10, 2015
This play unfolds like a fable, or a medieval morality play, with a completely believable "Monster" (played with gusto and sensitivity by Scott Leggett), in residence inside a small child, "Cookie" (writer, Jaime Andrews). Because we immediately accept this Monster, we come to identify with Cookie as she grows up under his spell and develops ever increasing tendencies toward self-destruction. The ensemble (Sunah Blisted, Curt Bonnem, Perry Daniel, Peter Fluet, K.J. MIddlebrooks, Erin Parks and Guy Picot) skillfully plays all the family and friends throughout Cookie's childhood. What surprised me about this production, given the dark nature of the path down which Cookie travels, was that after initially being perplexed about where the play c...
full review
MICHAEL SHAW FISHER
· June 12, 2015
Jamie Andrews has a dark side. And ironically, sharing that with tenderness, wit and humility is where her brilliance lies. As a performer she gives Cookie a lost-yet-searching quality that pulls on your guts. As a writer she creates an internal discussion that will linger with you long after the curtain call. As her Monster, the raw and rough-edged Scott Leggett could easily steal the show with his one liners, were it not for the immaculate ensemble work that shines equally bringht without ever pulling attention. Each smaller character is so committed and surprising in their uniqueness. The direction by JJ Mayes is wholistic in its utilization of both absurd humor, biting satire and heart-humming vulnerability. In a festival that w...
full review
CYNTHIA BECKERT
certified reviewer
· June 09, 2015
Wonderful show! Poignant, powerful and right on. I don't know how any of us survived childhood and adolescence, but Cookie and the Monster shows is we were none of us alone. We all had our monsters, and we always have ourselves. Bonus: Depeche Mode references and choreographed blow jobs. Go see this show!...
full review
JULIE GROSZ
certified reviewer
· June 14, 2015
I saw the review night & then went back Saturday for more. The play is so well written. A tough storyline told with youthful enthusiasm filled with happiness, sadness & angst. The cast is so well placed. Everyone shines in this dark gem. Jaime Andrews is my hero & I applaud her amazing work with this. ...
full review
DAVID LM NOTUSER
· June 10, 2015
Funny, endearing and moving. The show mixes silliness and sincerity to move well beyond what seems at first to be a one gag sketch; making for a surprisingly fulfilling theater experience....
full review
EMILY DONN
certified reviewer
· June 11, 2015
A sometime funny and sometimes heartbreaking modern tale of a struggle that will be familiar to many audience members. Clever and witty, very well acted and directed....
full review
RICHARD GRAVES
certified reviewer
· June 11, 2015
A Great Show! Very funny and entertaining! Jamie Andrews is terrific as "Cookie" and Scott Leggett plays the "Monster" to the hilt! The entire cast is fantastic, too! Captures many of the problems involved in growing up in a dysfunctional family and environment, and the difficulties of navigating those awkward and challenging high school years. And it does so with great wit and humor! And with a little - okay, a lot of - edginess too! Who knows? You might even learn a thing or two about dealing with your own inner "monster." Highly recommend!...
full review
ADVERTISEMENTS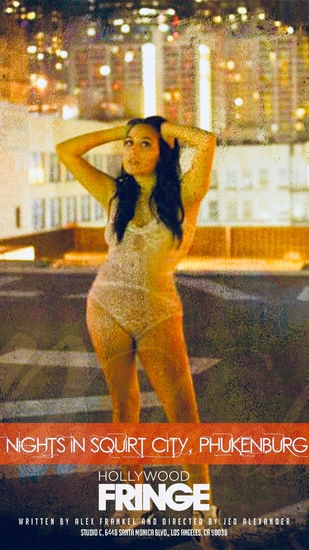 A Russian beauty. A chat room packed with horny males. A moderator yelling for tips. Just another night in Chat Heaven. Until tragedy strikes. At the Fringe June 4-9-13-18-22.
The audiences have spoken! Get your tickets now. They're going fast! Only 3 performances left!
SIGN UP FOR THE FRINGE NEWSLETTER
BEHIND THE SCENES
Copyright © 2018 Hollywood Fringe Festival
All Rights Reserved.