Tweet
http://hff13.org/1354
(hit ctrl+c to copy)
THE FEVER by Wallace Shawn (Updated Version)
solo performance
· lighthouse productions · Ages 15+ · one person show · United States
Buy Tickets
Add to Favorites
TRACY VEAL
certified reviewer
· June 10, 2013
Brad C Light's brilliant performance of Shawn Wallace's insightful "Fever" is disturbing, angst ridden, and mesmerizing as his range of emotion perfectly mirrors the shifts of his tortured conscience. When enraged with realization of his unjustifiably privileged everyday life having dire consequences on the poor at global level, his face distorts beyond recognition. He questions, raves against, and then comes to term with his (our) actions. After witnessing this extraordinary performance in an intimate theatre, one can not leave it behind. It lives uncomfortably in your head for days (forever?). We were stunned when it ended to realize 80 minutes had passed so quickly. ...
full review
JED DONOHOE
· June 10, 2013
Brad C Light's performance is staggering — a real triumph that takes his character through a bewildering range of situations, emotions and insights into geopolitics. The fact that he does this almost entirely without props and while seated on a chair in the middle of the stage is even more impressive. Brad Light rages, whimpers and beseeches as his nameless protagonist slowly unravels before our eyes. This is acting at its very best — stripped to the bone and carried through with nuance, aplomb and passion. You must see this one-man, eighty-minute monologue. If for nothing else but the fevered reality Brad Light brings to a character hovering on the very edges of reason....
full review
ANONYMOUS
certified reviewer
· June 09, 2013
Moving and intense. A piece of theatre that will keep you thinking long after you left the theatre. Brad C. Light's performance is subtle expansive and moving....
full review
JENNIFER SOO
· June 18, 2013
Brad takes the audience on a journey that, at times, can be incredibly difficult and unsettling. By finding the humanity of the character, he forces the audience to face the uncomfortable and taboo and, at the same time, allows us to discover truths about ourselves along with him. ...
full review
PHIL WARD
· June 17, 2013
Wow. Actor Brad Light and directors Rebecca Sigl and Christopher Neiman have pulled off Wallace Shawn's difficult script beautifully. See it if you're not afraid to have your view of our social structure challenged. In fact, see it if you ARE afraid to have your view of our social structure challenged....
full review
TOM BEYER
· June 17, 2013
Brad's performance is virtuosic. A great roller-coaster ride through the complicated thoughts and feelings of Americans' relationship to poverty. Very thought-provoking and unique theatre experience....
full review
STUART K ROBINSON
· June 17, 2013
Brad Light's performance in "The Fever" is an emotional tour de force. Author Wallace Shawn has given the artist a mouthful to handle, but Light seizes the opportunity to mesmerize the audience, evoking guilt, compassion, amusement, and introspection, deftly pointing an accusing finger, but always pointing three back at himself. A very enjoyable evening of theater....
full review
ALEXIS DELAROSA
· June 17, 2013
Brad C. Light's performance feels effortless. The show is uncomfortable, because of it's honesty, painful because of it's simple simple realism. The Man is just that, one man. His moral compass making it impossible for him to ignore poverty and oppression while simultaneously not providing him with any answers... just more questions, scalding ones. Performed brilliantly like one of those after dinner conversations that you just didn't see coming and ends up sticking with you for a long time... maybe forever. Bravo guys....
full review
CHRISTOPHER NEIMAN
· June 17, 2013
a one person show NOT designed as a showcase, but as a thought provoking examination of wealth inequality and personal entitlement. Brad Light deftly leads us, and his work is passionate, generous, and honest. I recommend. ...
full review
WENDI WEST
· June 18, 2013
So many one person shows are tales and multiple characters thru various voices and hand gestures...this is NOT that. This is a fascinating story and social commentary and Brad Light does a lovely job of taking us on a thought provoking ride....
full review
ADVERTISEMENTS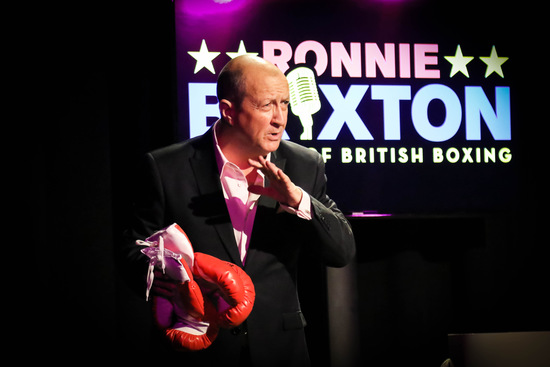 LAST CHANCE TO SEE RONNIE LIVE! RESERVE $10 TICKETS & REDEEM A COMPLIMENTARY T-SHIRT or TANK TOP AFTER THE SHOW! __"David.Shaughnessy is amazing! He brought us to tears with a sense of hope."-Debbie Hall, BROADWAYWORLD __100% SWEET ON BETTER-LEMONS!
Want Valley Theatregoers at your show? NoHoArtsDistrict.com (1 million visitors yearly) - #1 source for theatre in the Valley now offering exclusively to Fringe productions Review, frontpage AD and social media to 26,000 followers for $165.
SIGN UP FOR THE FRINGE NEWSLETTER
BEHIND THE SCENES
Copyright © 2018 Hollywood Fringe Festival
All Rights Reserved.