Tweet
http://hff13.org/1353
(hit ctrl+c to copy)
#Hashtag
ensemble theatre
· the mechanical heart · Ages 13+ · world premiere · United States
Buy Tickets
Add to Favorites
ANONYMOUS
· June 10, 2013
#Hashtag is one of the most original shows I have ever seen. At turns hysterical,touching and heartbreaking. It is the perfect show for these complicated time we live in. ...
full review
STEVE HOWARD
· June 07, 2013
Just saw #Hashtag. Smartly written, tightly directed, and acted beautifully. It is a smart social commentary with heart. I highly recommend it to anyone and everyone in this town....and yes, that does include the valley. ...
full review
JERRY CHAPPELL
· June 08, 2013
This was a hoot. Very talented company of actors who brought this modern "life" story to stage. Anybody who is an actor in Hollywood or knows an actor in Hollywood needs to see this show. It's an awesome slice of life for those who uproot themselves in search of their "dreams" and plant themselves in the SoCal sunshine. Set against the modern "social" networks of twitter/Facebook/and text, this smart work explores life in and out if the network and in my opinion is is well worth the price of admission. See this show:)...
full review
COREY CHAPPELL
· June 08, 2013
This show was written by the cast/crew through a series of discussions & improvisation. The result is a smart, funny, current & relatable story revolving around a man who dreams of becoming Hollywood's next "big thing" and the trials/tribulations he encounters along his path to stardom. The witty dialogue was well executed by the impressive & energetic cast. Many moments rang true to situations I, myself, have experienced first-hand. If you have a cell phone, Facebook account, Twitter page, online dating profile OR are trying to make it as an actor in this town (or know someone perusing an acting career), go see this show!!...
full review
ROCKY LANE
· June 09, 2013
This stellar ensemble provides a real world, real time experiment in exploiting social media. Hands down a must see! To anyone looking to capture & manage their career in Hollywood. & Tweet, instagram or Vine the show, while it is happening. Kudos...
full review
J H
· June 10, 2013
I saw #HASHTAG this last Saturday and it was amazing!!! Jeff Weinckowski always has something to say that's important...it's real and funny and makes you think! The acting was absolutely perfect, the actors are GREAT! Honestly it's running through the end of June and I WILL be seeing it again! Great job everyone involved!...
full review
CHAIRMAN BARNES
· June 10, 2013
Are social networks and technology bringing us closer together? Or, are they creating new barriers to true intimacy and connection? Those questions are light-heartedly explored in #Hashtag. Steering our hero, Kit (Spencer Devlin Howard) through the rocky shoals of interpersonal relationships is the smarmy assistant to his new (and unseen) Hollywood agent (Nathan Turner). Other notables include Brian Paul Johnson as Ivan, the neo-luddite who has no idea what a hashtag is, and Katie Wilert as the long-suffering girlfriend Kip loves but can't seem to connect with in person. Keep your phones on, record, Tweet, Vine and Instagram to your heart's content through this hour-long episodic story....
full review
ANONYMOUS
· June 11, 2013
A fun, poignant, heartwarming piece about finding yourself in this modern day landscape of tweets, texts and posts. The cast is solid, each one weaving a powerful thread and contributing something meaningful and thought provoking to a quick, witty (improvisationally scripted) story that finds our "hero" caught between his digital life and his personal connections. Definitely a must see at FRINGE....
full review
ANONYMOUS
· June 12, 2013
#Hashtag was a funny and original exploration into social media and the effects it has in modern life. The small cast managed to create characters that seem relatable and lived in, albeit still quirky and interesting to watch. I also took the advice to live tweet the show, and it was a lot of fun to get back real time responses both from the show runners and the characters themselves. I agree with a previous reviewer that live tweeting too much will take away from the experience, but I felt that I was able to strike a satisfying balance. Definitely go see this show if you get the chance....
full review
ADVERTISEMENTS
Written by the award winner of 2014 hit Angels and Whiskey and directed by Best Comedy for the DC Fringe winner Branda Lock, we finally answer the question: what happens to gods who have no believers left? Let There Be Thistles: An Ungodly Comedy.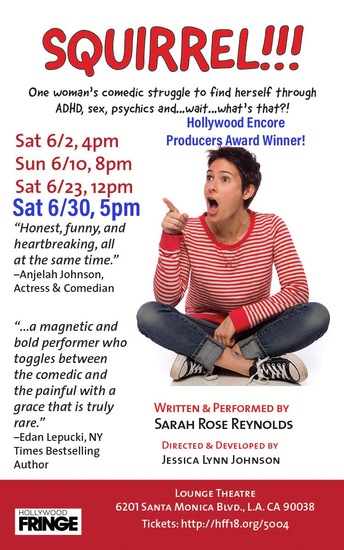 WINNER of the Hollywood Encore Producers Award! Only performing 1 encore show! Get your tickets now for the 6/30, 5pm show at the Lounge Theatre! hff18.org/5004
SIGN UP FOR THE FRINGE NEWSLETTER
BEHIND THE SCENES
Copyright © 2018 Hollywood Fringe Festival
All Rights Reserved.