Tweet
http://hff13.org/1333
(hit ctrl+c to copy)
The BEATING
Buy Tickets
Add to Favorites
Send Message
PAUL ELLIOTT
· June 08, 2013
The Beating is perfect Fringe material...taking the everyday we feel we know and turning it on its head...in this case, the proceeding in a courtroom are turned into a farcical battle between attorneys, jury members and a judge who'd rather be someplace else...all done to a syncopated beat that replaces dialogue. Don't miss this play. ...
full review
NANCY BEVERLY
· June 08, 2013
Fascinating way to take us into a trial and jury deliberations -- and if you've ever had to serve on a trial, you'll identify. The question on the table -- did a father hit his son with a belt & its belt buckle -- was gripping. To top things off, the play is full of movement and rhythm, something I'd never seen before with this type of play. Bravo to the writer, director and cast -- excellent job!...
full review
ALEX SCOTT
· June 16, 2013
Fierce Backbone returns to the Fringe this year with Mona Deutsch Miller's experimental, cerebral Court Room play "The Beating". While I don't agree with hardly any of Sam Szabo's directorial decisions or some his casting choices, I do believe this is a show that some people at fringe might find enjoyable - and it is by far the "fringiest show" I've seen so far. Jessica Richards and Karla Solarte shine as Juror's # 4 and 5, and towards the end of the show Michael Khanlarian is a joy to watch. Overall though, the beating seems to beat it's audience over the head with too many choreographed dance moves and choral reading to be worth it's admission price. In my mid, it's an experimental piece that never quite gets there, and falls a little bit ...
full review
HERB ISAACS
certified reviewer
· June 08, 2013
Unusual play, well cast and well directed. You should try to see it....
full review
DAN JOHNSON
· June 17, 2013
An interesting production, but might ultimately be a victim of mismanaged expectations. While the case before the jury does in fact involve spanking, the play itself is not an exploration about that. It is much more a satirical look at the American Criminal Justice system as a whole, and the case presented to the jurors is interchangeable with any other case. The cast, as a whole, was strong, but the production failed to engage me....
full review
NANCY HAFFNER
· June 23, 2013
Outstanding and great fun! We've been so bombarded with courtroom dramas it is an unexpected surprise and true entertainment to see such an original take on what is really going on with all the courtroom players. Really had me wanting to clap my hands, stamp my feet and especially join in the refrains of the jurors. Embodies the best of the festival - my hat is off to writer and director - great work!!!...
full review
ANONYMOUS
certified reviewer
· June 17, 2013
This was a brilliant interpretation of the criminal trial process. As a lawyer, it was exceptionally enlightening to see the adversarial tone between prosecution and defense depicted as a flamenco dance. I've never thought of the interplay like that, but it is so spot on!! Also the "jury instructions" were a hoot, no wonder why real jurors get so flustered. I loved every second in this artfully carved piece. Thank you very much! ...
full review
ADVERTISEMENTS
Don't miss the world premiere of All American Sex Addict/Woke AF. Tickets for our June 3rd 4:30PM preview are $7.50. Tickets for all other shows are $15 but get them for $10 with discount code VEGAN.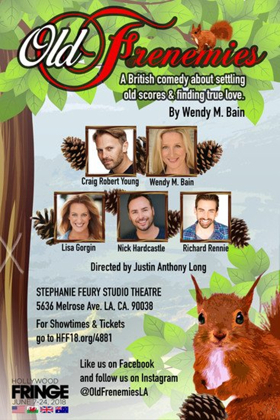 A modern British comedy play, with a British plus one Aussie cast.
SIGN UP FOR THE FRINGE NEWSLETTER
BEHIND THE SCENES
Copyright © 2018 Hollywood Fringe Festival
All Rights Reserved.