Tweet
http://hff13.org/1218
(hit ctrl+c to copy)
Four Clowns presents Me Rich You Learn
Buy Tickets
Add to Favorites
ANONYMOUS
· June 14, 2013
I have to say, I was a little disappointed with this production. I have been following four clowns since they did their Romeo and Juliet show a few years ago. And again with that beautiful laugh last year. I have loved everything they have done, but this year, my hopes and expectations fell short. It was funny yes. It was over the top yes. And in my opinion it was trying way too hard. I wanted a four clown show, instead I got a lot of screaming and actors in a mind set of "We know we're the best." I wish I could say I enjoyed it as much as other people did, but I'm sorry, I did not....
full review
MATT SOSON
certified reviewer
· June 14, 2013
Very fun show! Got pulled from the audience, and had a blast. When I wasn't laughing my face off, I was happily entranced by watching the freedom of the two performers onstage. Watching two very strange and wonderful people just let go and fuck around is always a great time. And these two have a particularly wonderful working relationship in comedy....
full review
PETER KARINEN
certified reviewer
· June 09, 2013
Steel and Carpenter have been making comedy together for years, and it shows. Their timing, style, and unique voices shine in their performances. Their energy is incredible, and the jokes are irreverent and hilarious. IF YOU ENJOY LAUGHING AND/OR MARSHMALLOWS, GO SEE ME RICH YOU LEARN!...
full review
BOB LEGGETT
examiner.com
· June 08, 2013
As a veteran comic used to say "And now for something completely different." This is not the Four Clowns you are used to. Yes, there is a clown in the production, but no, this is not a tender story about virtue and love. This is a slapstick comedy, in the vein of the Marx Brothers or The Three Stooges. This show is destined to be a comedic hit, and if the crowds at last night's preview were any indication, this show will sell out the remainder of its performances. If you love to laugh until you almost pee yourself, this is definitely the show for you. Highly recommended! Check out my review at Examiner.com for more details....
full review
EVITA CASTINE
certified reviewer
· June 08, 2013
I didn't know what to expect coming to the show. I remembered going to the circus as a kid and seeing clowns there with my father, so I was curious to find out what the show was about. From start to finish, I was laughing hysterically. This is not the clown show I remember from yesteryears - it's adult, it's snarky, uproarious, dirty, unpredictable, in short - it's clowning! I laughed so hard my stomach almost split open. I dodged marshmallows, shouted with the rest of the crowd, cried, and laughed - every emotion! Stars Zachary Steele and Adam Carpenter took me through it with their incredibly nuanced performance. Afterwards, I reflected on what skill it must take to get this good - the directing and the entire creative team did a magnifice...
full review
JOE DESOTO
certified reviewer
· June 08, 2013
I saw Four Clowns' "That Beautiful Laugh" at last year's Fringe and was an instant fan of the company. I wasn't really sure what to expect going into "Me Rich You Learn" (mostly due to the noticeable absence of the iconic red nose). Is it a clown show or something else entirely? What I got, however, was the pleasantest of surprises: a clown show for grown-ups! Zachary Steele and Adam Carpenter have created, without a doubt, one of the most outrageously brilliant comedies I've seen in recent years. This show is the definition of balls-to-the-wall. It's raunchy, it's rowdy, it's in your face, and, most importantly, it's an absolute riot. At one point I was actually laughing so hard my sides hurt. And that doesn't happen often. The piece itself...
full review
LAURA KINDRED
certified reviewer
· June 09, 2013
Always highly enjoyable to see two performers who've perfected their ping pong. This show is a strange and hysterical romp, complete with a Shakespearean false ending you never thought you'd laugh at. Better than Game of Thrones....
full review
ADAM REYNOLDS
certified reviewer
· June 09, 2013
Zack and Adam were two of the first comedians I worked with when I moved to LA in 2006. They made me laugh then and they continue to make me laugh now. Their senses of timing and delivery are so precise and the chemistry between the two of them is obvious. Go see this show and ejaculate tears! ...
full review
ELIZABETH LAIME
certified reviewer
· June 09, 2013
Holy eff. It's really hard to explain how these two performers, their timing, the dark and the silly, the subtle twists in dialogue and the pacing of the show add up to what I can only say is: comedy art. That's truly what it is though. It feels experimental but also totally fully formed. Off the cuff but also so nuanced and brilliant that the entire audience is hanging onto every moment. It's highly intelligent but had the audience in continual laughter and applause with brilliant stuff like "penis guts"... Please do yourself a favor and go see this show with someone you love. ...
full review
FEE DOYLE
certified reviewer
· June 09, 2013
Once again Four Clowns proves that leaving the stage a complete mess is a sign of good work: Half-naked, wet, and covered in marshmallows. I was skeptical that only two clowns could prove the feat set forth by their previous productions, but Martin & T.R. did so with such finesse. You'd be a fool to miss it. ...
full review
ADVERTISEMENTS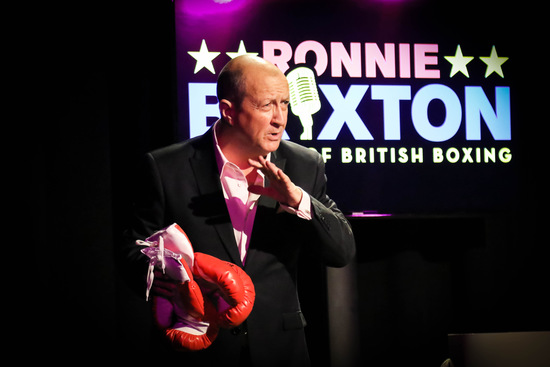 LAST CHANCE TO SEE RONNIE LIVE! RESERVE $10 TICKETS & REDEEM A COMPLIMENTARY T-SHIRT or TANK TOP AFTER THE SHOW! __"David.Shaughnessy is amazing! He brought us to tears with a sense of hope."-Debbie Hall, BROADWAYWORLD __100% SWEET ON BETTER-LEMONS!
SIGN UP FOR THE FRINGE NEWSLETTER
BEHIND THE SCENES
Copyright © 2018 Hollywood Fringe Festival
All Rights Reserved.