MIXED PERSONALITY DISORDERS: A WORLD PREMIERE AT ASYLUM LAB FOR HOLLYWOOD FRINGE FESTIVAL 2012
view show
|
Mental illness was never so much fun as in MIXED PERSONALITY DISORDERS, a world premiere solo show by David Michael Taylor. He's had to live his life, but now you can enjoy it. From a childhood spent as the captive of his family of hillbilly maniacs through an adulthood derailed by an unexpected but unsurprising series of nervous breakdowns to a happy ending in a funeral home, Taylor's tale of trauma and triumph make MIXED PERSONALITY DISORDERS the feel-good feel-bad play of the year.
David Michael Taylor studied in the BFA Acting Program at The Ohio State University and the MFA Acting Program at the University of Washington. Productions of his plays include CRADLE TO GRAVE (OSU's Stadium II Theatre), collections of one-acts and monologues entitled FEAST OF FOOLS and FUN CITY (Center Stage, New York City) and his one-act plays A PERFECT MANHATTAN and TIBET WEST, which were both winners of NYC's Playwrights/Actors Contemporary Theatre's ten-minute play contest. His play ALMOST HEAVEN received readings in NYC at Center Stage and The Dramatists Guild. He was co-founder and Artistic Director of Studio a la Koo Koo, a non-profit theatre company in NYC.
Additional information is available at davidmichaeltaylor.com.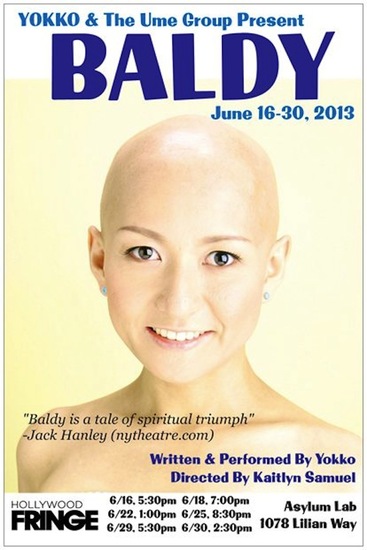 A young Japanese woman discovers her father's love for her only after she loses her hair and skin. Nearly a dozen characters are brought to life in this revealing, fearless and funny journey of survival and the power of dream.
The timeless story of a po' country girl turned high-falutin' lady-of-the-night! June 25th is now a 10 PM show!