THE SACRED BEASTS
view show
|
Press Contact:
Chris Wollman
(408) 605-0820 [email protected]
For Immediate Release May 10, 2017
The Sacred Beasts premieres at Hollywood Fringe!
In his Fringe debut, Chris Wollman's poignant comedy highlights the dynamic and drama-fueled friendship between Ernest Hemingway and Orson Welles that spanned the decades.
LOS ANGELES, CA May 10, 2017 – The Sacred Beasts will be making its world premiere in June as part of the Hollywood Fringe Festival. This comedy digs into the core of an unlikely kinship between Orson Welles and Ernest Hemingway as different actors portray the pair at three different stages of their lives. Asylum @ The Underground Theatre – 1314 N. Wilton, Los Angeles, CA 90028
Synopsis:
In The Sacred Beasts, the booze and resentment-soaked real life friendship of Ernest Hemingway and Orson Welles is conjured in three scenes spanning three decades with the besotted wordsmiths played by different actors in each stage of their lives. Celebrated as much for their personal lives filled with prodigious beard growth, cigar chomping and romanticized alcoholism as anything they actually wrote, these two tempestuous, swaggering egos in human form are often elevated as mythic symbols of a particularly distinct and antiquated flavor of "manhood." This show breaks the idols and displays these sacred beasts as they were. Watch them drink, fight, hunt, smoke, and bloviate their way across such issues as easy success, hard win failure, and the corrosive effects of hypermasculinity. Claim your ringside seat as these fists of genius at last come to blows.
"In my research, I found a number of interesting parallels between the two men both personally and professionally, and thought their stories and friendship would be an interesting way to address a number of issues we're experiencing today regarding the prevalence of toxic masculinity and pride, amongst other things," said Wollman. "Plus, I just thought it would be funny."
When asked about what audiences can expect from The Sacred Beasts, Wollman said, "I'm hoping first and foremost that audiences laugh. That they feel they've learned something about these two men beyond the trivia and tall tales. Hopefully they might draw some parallels to things happening today in terms of men struggling with expectations and what it means to be a man, as well as how these two might have felt about key issues we as a country are dealing with today."
The Sacred Beasts
Written and Directed by Chris Wollman
PERFORMED BY:
Hunter Saling Craig Woolson Jerome St. Jerome John Patrick Davis David Gallic Richard Malmos
DATES AND TIMES:
Part of the Hollywood Fringe Festival
Saturday, June 3 – 5:30 p.m. Sunday, June 11 – 8:30 p.m. Saturday, June 17 – 4 p.m. Sunday, June 18 – 4 p.m.
LOCATION:
Asylum @ The Underground Theatre 1314 N. Wilton Place
Los Angeles, CA 90028
TICKET PRICES:
$15 with comps available for members of the press upon request. $5 for all Fringe participants
**Seniors and students $3 off with code "HFF17" ID checked at the door.
Appropriate for ages 16+
FOR TICKETS AND ADDITIONAL INFORMATION:
http://www.hollywoodfringe.org/projects/4589
Press Contact:
Chris Wollman
(408) 605-0820 [email protected]
The Statue of Liberty has run away with a secret and found herself arrested. Songs, dance and comedy might save her and freedom? 5 Stars Rick Nicolet at SONY. Story: Don Lewis and Leonid Andronov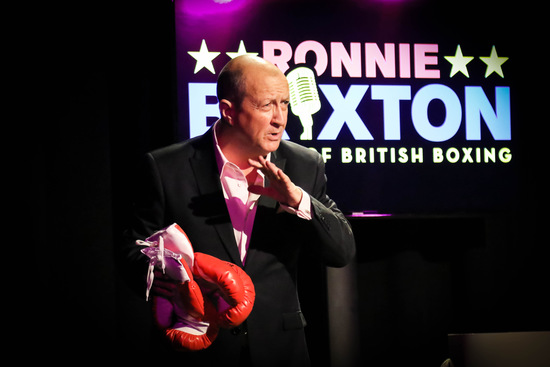 LAST CHANCE TO SEE RONNIE LIVE! RESERVE TICKETS & REDEEM YOUR COMPLIMENTARY T-SHIRT or TANK TOP AFTER THE SHOW! __"David.Shaughnessy is amazing! He brought us to tears with a sense of hope."-Debbie Hall, BROADWAYWORLD __100% SWEET ON BETTER-LEMONS!