WORLD PREMIERE CEREMONY BRINGS ANDEAN SHAMANISM TO HOLLYWOOD FRINGE
view show
|
For info and comps, contact Michael Kass at [email protected] or 323.702.2357.
Ceremony
Written & Performed by Michael Kass
Directed by Diana Wyenn
World Premiere
Hollywood Fringe Festival
Theater Asylum Lab
5 performances only:
6/8, 1 PM
6/13, 11:30 PM
6/16, 8:30 PM
6/23, 1 PM
6/26, 10 PM
Los Angeles, CA // Award-winning storyteller Michael Kass makes his solo show debut this June with the world premiere of Ceremony at the Hollywood Fringe Festival. Under the direction of Diana Wyenn, Ceremony takes audiences on a journey of adventure, love and fear as Michael delves into the world of Andean shamanism in search of transformation. The adventure begins on June 8th at the Theater Asylum Lab and runs for 5 performances through June 26th.
Michael has written the show as an 'intimate epic,' an intensely personal story that grapples with universal themes of isolation, self doubt and coming of age in the context of a shamanic medicine ceremony. Grappling with heart break and depression, Michael quits his job in the midst of a historically awful recession and finds himself in Peru drinking a noxious tea as a shaman looks on with a smile. How far is he willing to go to find transformation? And will he be able to find his way back? It's a roller coaster ride and along the way, we meet a homeless guide, tree hugging Russian mystics and become intimately acquainted with both a red balloon and a blue bucket.
The world premiere of Ceremony is Michael Kass' first full-length solo show. He is a fixture in the Los Angeles storytelling community, having won multiple Moth StorySlams and appeared in shows including Spark Off Rose, Taboo Tales, I Love a Good Story and countless others. Also an actor, Michael most recently appeared in the World Premiere of Jami Brandli's S.O.E. and has worked with companies including Son of Semele Ensemble, Odyssey Theatre Ensemble and Chicago's Lookingglass Theater Company. Michael's writing has appeared in the Chicago Sun-Times and blogs including Thought Catalog and Fierce and Nerdy.
Director Diana Wyenn is an incredible asset to the piece. A fierce advocate for the arts in Los Angeles, she spearheaded Artmageddon, a city-wide arts festival that coincided with last year's closure of the 405. In 2004, Wyenn received her BFA in Drama from New York University's Tisch School of the Arts, where she trained at Playwrights Horizons Theater School, Experimental Theatre Wing (ETW) in Amsterdam, Stella Adler School of Acting and the Royal Academy of Dramatic Arts (RADA) in London. She participated in the Directors Lab West program in 2012.
To learn more about the production and read bios for the creative team listed above, visit www.ceremonytheshow.com.
For press accommodations, interviews, photos, key art and additional information, please contact Michael Kass at 323-702-2357 or [email protected]
A women with a gun is a dangerous thing. Discount Code "opening"- 1/2 Off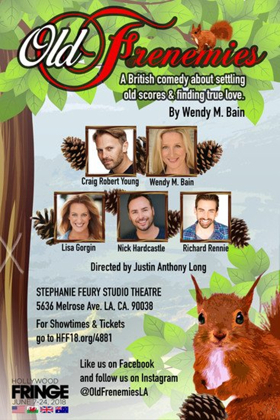 A modern British comedy play, with a British plus one Aussie cast.